Testimonials
Do you have a Hyalun
®

story you would like to share?

How has Hyalun® impacted you and your horse's life? Click on the link below to share with us your story.
Product testimonials
"Hyalun" -- a word near and dear to my heart! Almost two years ago, shortly after my now-four-year-old gelding I Make Em Shake went into race training, I saw an advertisement for Hyalun. After reading the available literature, I sent for the product, and my race trainer began using it. Without going into all the details, this horse ran eight races (all trials and finals) his two-year-old year and 11 races last year (again allowance, trials, and finals). To date he has earned 256 racing points (Superior Race Horse in September 2004), TQHA Champion 2-Year-Old Gelding, AQHA Texas High-Point 3-Year-Old Gelding, and AQHA Regional High-Point 3-Year-Old Gelding. He has also earned nearly $315,000 on the track. He has NEVER chipped or shin bucked. My vet has X-rayed him extensively at the end of his two racing years -- 24 pictures in 2003 and 20 in 2004. He just stands and shakes his head and finally says, "This is how the textbooks say a horse's joints SHOULD look." Do I believe in Hyalun? You bet I do, every day that I look at my horse and every time I see the many beautiful awards he has earned.
Betty Jo Spence
"It is the easiest and most effective product I have found on the market today, and I know my horse, Diamond Daisey, has found Hyalun to help support her joints that have troubled her over the years. She has been a buggy horse for twelve of her fourteen years on earth and as she gets older the buggy work gets harder on her ankles and knees than ever before, but thanks to your Hyalun product, she is back at it! One month's time has seen super results on our horse with known joint concerns, and we have since started all our horses on the product as maintenance regiment!"
Jay Miller
"Hi. My name is Cristy Gylfphe. I have been working for HBR selling Synthovial 7 and our other products and the makers of Synthovial 7 let us know about a new product for horses called Hyalun. I am only 21, so I don't use the Synthovial-7 product yet, but I have seen amazing results using Hyalun on my older Arabian gelding, Bailey. I ride him out on the trail and do basic intro level dressage work. We are best friends and through the hardest parts of my life he was the one thing I could look forward to everyday to cheer me up. However, last spring he became terribly lethargic and lost his appetite. I stopped riding him as regularly and that seemed to cause him to lose even more weight. My vet preformed several tests on him, but nothing came back as abnormal. She recommended that I put Bailey down. The thought of this broke my heart. It was around this time that I heard about Hyalun. I decided to get a bottle to try, just to make Bailey a little more comfortable until the dreaded euthanasia day came. I didn't notice any huge changes for about a week, only that his temperament seemed more lively. He would prick his ears and say "hi" when he saw me coming, he just seemed a little more interested in life in general. Then, at the end of the second week I noticed that he was polishing off all of his grain at feeding time, and when I turned him out to pasture he galloped out as fast as he could, popping a few bucks along the way. I could hardly believe my eyes. Was this the same horse my vet had suggested putting down only a month before? Being in constant soreness is often the reason for older horses to lose their appetite and interest in life. My Bailey was back to his old self. Along with more activity and increased appetite, Bailey's skin his less flaky and his eyes don't dry out in the summer dust like they used to. I am riding him again and he is more flexible and happy to go for runs along the dirt roads behind the farm. Hyalun is also so easy to give, I just squeeze one dropper full onto two sugar cubes and feed these to Bailey by hand. he is very picky about a lot of things, but he never hesitates to take the Hyalun...I guess because it is tasteless. Thank you so much for putting Hyalun on the market...You have saved my best friend's life!"
Cristy Gylfphe
"My 18 year old mare began to have problems close to 10 years ago. I've taken her to at least 4 veterinarians and none of them gave an exact diagnosis. She's had shots, acupuncture and chiropractic. All helped short term and very expensive. Then I started her on a glucosamine / Chondroitin product. There was improvement so I decided to keep her on that. I went on my annual trip to Equifest in Wichita, Ks. Clinton Anderson was doing one of his clinics and mentioned the Hyalun for horses with joint concerns and guaranteed an improvement. So I gave it a try. I bought 2 months worth. After less than a week I noticed an improvement. She began to move and turn smoother and seemed a lot happier. Before I knew it, I ran out of the Hyalun and finished off the other product I had been using. She has regressed back to the way she was. I got a hold of more Hyalun and will continue to use it for as long as need be."
Kathy Lindsay
For more testimonials, click here.
The Hyalun
®

team

Champions always want the best for them and for their horses. That's why they turn to Hyalun®. Hyalun® oral hyaluronic acid has given champions all over the world that competitive edge to help them and their horses reach the top!

"The clinic has administered this product to equines. Our clients commented on the improved flexibility in the horses since using Hyalun and they claim the horses have shown an improvement. Furthermore, the horse racing clientele that have used Hyalun expressed their appreciation for the product. They contributed the use of Hyalun for being able to change from claiming races to Stakes races."
Bristow Veterinary Hospital

"As a veterinarian, as well as a professional horseman, I am reluctant to endorse just any product line due to my professional obligations. However, after having extensive experience with Hyalun (Oral Hyalun) I have observed an obvious benefit from its use in problem horses. I am currently using Hyalun on my young horses as well"
Steve Schwartzenberger, DVM
Schartsenberger Training, Longmont, CO
www.ssequine.com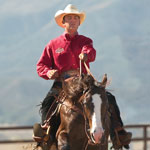 "I have noticed a drastic change in my horses since using Hyalun, this product is definitely a must have in my training program. My horses improved their performance and my customers are saving money on expensive joint injections."
Andrea Fappani
Well-known reigning trainer and NRHA Futurity Champion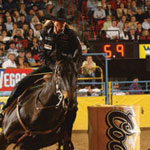 Sherry Cervi
Career earnings worth over $1.4 million
WPRCA World Champion in 1994 and 1999
Third all-time highest rodeo money winner
Ten-time National Finals Rodeo qualifier
Two-time National Finals Rodeo World Champion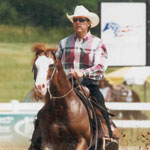 Craig Johnson
Two NRHA Futurity championships
NRHA Derby winner
Two-time Superstakes winner
Six APHA world titles
Three-time World Equestrian Games Gold Medal winner
Two-time World Equestrian Games Silver Medal winner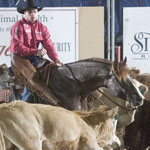 Matt Gaines
Respected cutting horse trainer
Two-time NCHA major event winner
Total earnings of $546,442 with 14 horses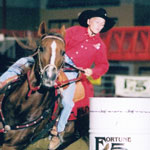 Blake Worland
NFBR/ABRA 1D National Youth Champion
NBHA 3D National Youth Champion
Two-time 1d Open Morrison Memorial Champion
Two-time NBHA Youth World qualifier
Member of the Wrangler All Star 1D team
Barrel Mania Open Go Champion
NBHA 1D Youth Champion
NBHA Youth World Championship finalist
Josey Junior World Championship finalsit
Top-three in the Kansas State Youth Finals
Wesley Galyean
2004 NCHA Futurity Open Finals winner

Clint Scheller
Four-time USTRC Front Range and Wyoming State Champion header

Jake Barnes
World-class PRCA team roper

Troy Compoton
Trainer of multiple World Champion AQHA and APHA Western Pleasure horses

J.R. Reichert
Trainer of award-winning APHA Western Pleasure